New ProZ.com translation contest: "Bon voyage" Participate now!
Persoa que publicou o fío: Julieta Llamazares
Julieta Llamazares
Local time:

04:45


PERSOAL DO SITIO

SITE LOCALIZER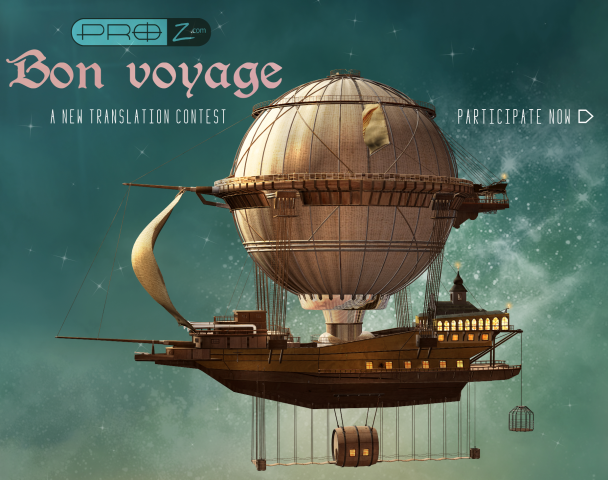 Hi, all!

I'm happy to announce that ProZ.com has opened a new translation contest, "Bon voyage". And you can choose to translate from three different source text (in English, Spanish and Portuguese) about travel. Submissions are open until February 27th!

Submit your entry here »

Who can participate?
Entry submission is limited to ProZ.com members in pairs in which the member population is large enough to support competition (the complete list is available in the contest page). In pairs other than these, any registered user can submit an entry. Rating and voting on entries submitted by others is open to all registered users.

How about a source text in X language?
ProZ.com translation contests depend on the collaboration of participants in many aspects--voting, commenting, submitting entries, and also in finding suitable source texts in various languages (especially languages in which no member of the site team is native). You can help ensure source texts in a variety of languages for future contests by proposing a text in your native language here.

Contest related FAQ: Get the answers here.

Happy translating,
Julieta
To report site rules violations or get help, contact a site moderator:
You can also contact site staff by
submitting a support request »
New ProZ.com translation contest: "Bon voyage" Participate now!
CafeTran Espresso
You've never met a CAT tool this clever!

Translate faster & easier, using a sophisticated CAT tool built by a translator / developer. Accept jobs from clients who use SDL Trados, MemoQ, Wordfast & major CAT tools. Download and start using CafeTran Espresso -- for free

More info »
WordFinder Unlimited
For clarity and excellence

WordFinder is the leading dictionary service that gives you the words you want anywhere, anytime. Access 260+ dictionaries from the world's leading dictionary publishers in virtually any device. Find the right word anywhere, anytime - online or offline.

More info »