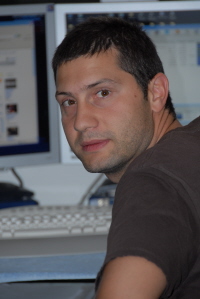 Membro dende Dec '06
Linguas de traballo:
English to Spanish
English to Galician
French to Spanish
French to Galician
Spanish to Galician
Juan Ignacio Sendino
17 years in multimedia localization



Spain

Hora local:

07:47 CEST (GMT+2)



Autónomo e comprador de servizos ,

Membro verificado
This person has a SecurePRO™ card. Because this person is not a ProZ.com Plus subscriber, to view his or her SecurePRO™ card you must be a ProZ.com Business member or Plus subscriber.

Translation, Editing/proofreading, Software localization, Project management
Especialízase en:
Marketing / Market Research

Games / Video Games / Gaming / Casino

Media / Multimedia
Computers: Software

IT (Information Technology)

Law: Patents, Trademarks, Copyright
Linguistics
Other
More
Puntos no nivel-PRO: 20, Preguntas respondidas: 14, Preguntas feitas: 7
0
Euro (eur), U. S. dollars (usd)
Master's degree - University of Vigo (Spain)
Anos de experiencia en tradución: 21. Rexistrado en ProZ.com: May 2003. Fíxose membro: Dec 2006.
N/A
English to Spanish (Foreign Affairs Department (Madrid))

N/A
Adobe Acrobat, Adobe Photoshop, Catalyst, Dreamweaver, Microsoft Excel, Microsoft Word, MS Office, Powerpoint, QuarkXPress, SDL TRADOS, SDLX, STAR Transit
English (PDF)
Juan Ignacio Sendino Adheriuse a ProZ.com's Normas profesionais (v1.0).
Bio
MOBY GAMES PROFILE
Contact: [email protected]

- Expert in multimedia translation and software localization
- 18 years experience in the videogames industry
- 5 years experience in software localization Project Management
- Dubbing scripts for recording (lip synch)
- Business and legal
- Sworn translation
- Spanish professional proofreading

- Please feel free to consult my English CV HERE for more detailed information on experience, skills, projects and clients.
- Please feel free to consult my Videogame Experience HERE for more detailed information on videogame titles I have translated, coordinated or somehow been involved in.


Translator / Editor Entertainment Software Localization and mobile applications

Translated over 15 million videogame related words (in-game text, audio scripts, manuals and packs, web/online content, downloadable content (DLC), social networks content, mobile games and apps (iOS & Android), press packs and newsletters) including several AAA titles worldwide distributed by market leading companies. 

Main projects as Lead Translator (apart from the below mentioned as Coordinator):


Cyberpunk 2077 (NG); The Room VR – A Dark   Matter (VR);
Lightmatter (PC); Freddy Fazbear: Five Nights at Freddy's (PC); Dragon Quest of
the Stars (Android); Fury Survivor – Pixel Z (Android); Kingdom Come:
Deliverance (PC);  South Park: The
Fractured but Whole (NG); Fantastic Beasts: Cases from the Wizarding World; DC
Legends (NG); Earchcore: Shattered Elements (PC); Saints Row 4 (NG); Bravely
Second (NDS); Magic: The Gathering. Wizards of the Coast (PC); Lords of the
Fallen (NG); Sacred 3 (PC, NG); Guild Wars 2 (PC); Crysis 3 (NG); Dust 514
(PS3); Minecraft (XBLA); The Elder Scrolls V: Skyrim (NG RPG); Pro Evolution
Soccer 2012 & 2013 (NG); Prototype 2 (NG); Alan Wake: American Dream ; FIFA
2013 (NG); Dungeon Fighter Live (XBLA); Crysis 2 (NG); Medal of Honor 2010
(NG); Dead Space 2 (NG); Need for Speed: Shift 2 (NG); Retro City Rampage
(XBLA); Need for Speed World (MMO); Dynasty Warriors 7 (NG); Fist of the North
Star (NG); All Points Bulletin (PC MMO); Crackdown 2 (Xbox 360); Dante's
Inferno (NG); BeyBlade (Wii, NDS); NFS: Hot Pursuit 2 (NG); Perfect Dark
(XBLA); Dead Space (NG); Need for Speed: Shift (NG); Spore Heroes (Wii); Spore
Creature Keeper (NDS); SKATE 3 (NG); Hasbro Family Game Night 3; The Godfather
II (NG); Burnout Paradise (NG); The Beatles: RockBand (NG); SKATE 2 (NG); AWAY
Shuffle Dungeon (DS); NFS: Undercover (NG); Rock Band (NG; RockBand 2 (NG);
SimCity Societies (PC); CRYSIS (PC); CRYSIS: Warhead (PC); Mercenaries 2: World
in Flames; No More Heroes (Wii); S.K.A.T.E. (NG); SimCity Creator (Wii); The
Godfather: The Videogame ; Lord of The Rings: The Battle for Middle Earth (I
& II) ; Age of Empires III: The Warchiefs ; King of Fighters (PS2); Caesar
IV (PC); Scarface (PCPS2, PSP); Batman Begins (PS2, GC)
Mobile applications and Games (iOS & Android):

Rise of Beasts, Daybreak Legends, ARK, Clone Wars, Light X Shadow, Final Fantasy IV:
The After Years; Top Eleven; World Warfare; Soul King; The Godfather; Jurassic
Park Builder; Rune Story; Rise to Fame; Game Knight; Monopoly Hotels; Monopoly
Slots; Clash for Dawn; Heroes Charge; Mirror ap; PasswordBox; Glide; Lightly;
BookBeo; One Touch Location; Jetpack Soldier; Open; Cooksnaps; CoachBase;
Dragon Empire; Hero Academy; Petworld; HorseWorld; Dreamjob Kid's Doctor; My
Country 2020; ColdWar; Oh My Gods; Cavemania; and many, many more.

Computing and software localization

Translated over 1.5M words of SW kits, UI strings, Admin Guides, User Guides, OLH, RS files, help files, web content, newsletters and documentation.
Projects I have localized: Microsoft Corporation: Microsoft Surface (Admin Guide)
Hewlett Packard:HP Asset Center 5.1 (FR>ES); HP Media Vault; HP Photostart; HP Systinet Server; HP BSM (Business Service Management); HP Trim 7.1. & 7.2. (TR and LQA); HP DDM (Digital Document Manager) (TR and LQA); HP PPM (Project and Portfolio Management). HP OO (Operation Orchestation).
Borland: JBuilder, StarTeam (as PM)
Nokia & Symantec: preferred partner for the localization of their products through the LSP The Big Word.
Diverse documentation and text material (instruction manuals, guides, websites, newsletters, catalogues, etc. Sony, Bosch, Aquire, Fujitsu, Kodak, Plantronics, McDonalds, Qualcomm, FSecure, Computer Associates, Nissan

Sworn, advertising, marketing, business and cooperation

Translated over 2M words, including all Hewlett-Packard monthly newsletters from 2006 to 2008. Specializing press, sales brochures, advertising documents, microsite content, press releases and newsletters.

SDL Vendor: over 1,5M words of diverse documentation and text material (manuals, guides, websites, newsletters, catalogues, etc.): Sony, Nike, Bosch, Fujitsu, Kodak, Plantronics, McDonalds, FSecure, C.A., Nissan, Qualcomm, Red Hat.

Legal: Patents; business contracts; statements, society articles of association, etc.
Sworn translation: Private and public legal documents, education statements, birth certificates, business contracts, articles of association, general business documentation.
Cooperation: Web sites and general documentation for non-profit organizations (Plan España)

Medical and pharmacy

Clinical research trials (Inocoll Pharmaceuticals.). Pharmaceutical research protocols (ALK-ABELLÓ S.L., Leti Laboratories..)


Localization Coordinator / Project Manager


From 2001 to 2006, I worked in more than 40 full videogame localization projects at Electronic Arts Ltd., world's leading videogame developing company (http://es.ea.com/), and in Localization Services Providers as Synthesis Iberia S.L. for software developing and publishing companies as LucasArts, Sony, Activision, Atari, Ubisoft, Vivendi Universal, Microsoft, Capcom, Bioware, Take2 or Eidos Interactive.

These projects involve tasks as the recruitment and coordination of translation teams; workload breakdown; translation of software strings, documentation and scripts; creation of style guides and glossaries; maintenance and implementation of translation tools (SDL Trados); supervision of audio recordings and of dubbing scripts with recording studios and voice talents; scheduling and budgeting projects, and liaise with LPMs and Development Studios.

Main projects: The Godfather: The Videogame, Need for Speed Underground 2; The Lord of the Rings: The Battle for Middle Earth; Armies of Exigo; Need for Speed: Most Wanted; The Lord of the Rings: The Battle for Middle Earth 2; NBA Live 06; We love Katamari Damacy, Superman Returns, Mission Impossible 2, Spiderman 2, Max Payne 2, Legacy of Kayn, Unreal Tournament, Driver 3, Hitman Contracts, The Incredible Hulk, The Hobbit, Empire Earth and The Mummy.


________________________________________________________________________________________________

Computer Skills

All Windows OS and Macintosh.

CAT Tools: SDL Trados Studio 2009 & 2011 and SDL Trados 2007 (SDLX), Trados Workbench, Trados TagEditor (proficient skills). LocStudio. Idiom Worldserver. Trados 6.5; Trados GXT. SDL Passolo. Catalyst. Star Transit, Translation Wordspace, MemoQ.

MSOffice 2000 / 2003 / 2007: Word, Excel, Access, Powerpoint, Outlook (Advanced skills). MSProject (user level).
Audio recording and editing: SoundForge; CoolEdit; Protools.
HTML editing: Dreamweaver (basics).
Page makeup software and text editing: QuarkXpress; Framemaker (basics), Adobe Acrobat Reader, Photoshop.


________________________________________________________________________________________________


Hardware & Software

Desktop: Intel Core 2 Quad Q6600 @ 2,40 GHz; RAM 4 GB. 1 TB in 2 HDs. 2 21'' LCD monitors. Graphic card ATI Radeon HD 3850.
Laptop: HP ENVY dv7-7202ss. Intel Core i5 @ 3,1 GHz, RAM 6 GB, 750 GH HDD, 1 17,3'' monitor. Graphic card GeForce GT 630M.

ADSL 10 MB. HP printer. DVD recorder. Canon digital camera.

Windows XP. Windows 8. Office 2003/2007. SDL Trados Studio 2009 & 2011 and SDL Trados 2007 (SDLX), Trados Workbench, Trados TagEditor. LocStudio. Idiom Worldserver. Trados 6.5; Trados GXT. SDL Passolo. Catalyst. Star Transit, Translation Wordspace, MemoQ.

Nintendo Wii U; PlayStation 2. MS Xbox 360. Nintendo DS Lite. Sony PSP. iPad 3. Android smartphone.

4 GB official glossaries. 50 printed dictionaries, textbooks and style guides. 20 dictionaries/encyclopedias on CD-ROM.


________________________________________________________________________________________________

Rates (per source word):

Translation EUR/USD .07
Proofreading EUR/USD .035
Sworn EUR/USD .10

________________________________________________________________________________________________





OneSky
Palabras chave: localization, videogames, consoles, pc, patents, law, technical translation, proofreading, books, legal texts, software, marketing, comic, script, dubbing, localisation, editing, business, games, multimedia, playstation, xbox, gamecube, PC, IT, linguistics, patents, trademarks, advertising, marketing, sport translation, football, basketball, soccer, tennis, subtitling translation, transcription, traductor, inglés español, documentos, traducciones legales, traducción médica, traducción literaria, traducción deportiva, fútbol, baloncesto, tenis, traductor autónomo, freelance translator, inglés, español, informática, computers, doblaje, dubbing, guión, script, traducción de guiones, script translation, subtitling, subtitulación, localización, localization, localisation, l10n, games, videogames, videojuegos, DVD, multimedia, proofreading, corrección, traducción jurada, sworn, games, game, PS3, Xbox 360, Wii, NDS, RPG, FPS, RTS, estrategia, strategy, rol, role, shooter, information, technology, html, trados, sdlx, onlinehelp, books, telephony, computing, software, hardware, workflow, technical, photography, marketing, globalization, publishing, advertising, DTP, web, interface, UI, editing, proofreading, tecnología, TI, informática, workflow, globalización,
Última actualización do perfil
Jan 26